Moral, taboos : Is the artist totally free?
At first sight, the artist is more or less free. Indeed, in France, the Property rights law code protects pieces of work whatever their content or if they fully deserve it.
In spite of this, it doesn't refrain the repression. If the exhibition of an urinal by Marcel Duchamp  made people amused in its time, the exhibition of sliced dead animals by Damien Hirst didn't have the same consequences. Pretending that an urinal, an inanimate, utilitarian and dirty object, is Art and pretending that a real cow shared in two with his veal is also Art has not the same impact.
Weather the Abstract Art was a revolution in Art's world, it's now the living things which are exhibited. Hirst dared to expose entrails in a museum and he is successful for this.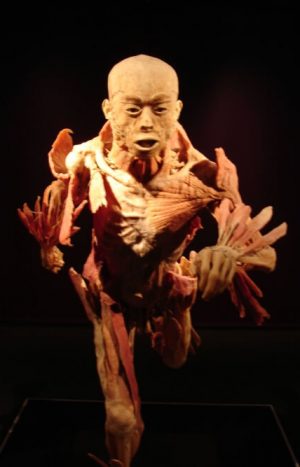 Exhibition "Our Body", Gunther Von Hagen
In this case, it is fair to ask why the exhibition "Our Body" showing corpses was refused in Paris in 2009? Indeed, this exhibition was really successful in Tokyo in 1995, in all big cities in Europe (London, Berlin, Bruxelles, etc.) and France (Marseille, Lyon).
In Paris, few days after the opening, the exhibition of 17 dissected corpses was forced to close by court decision. In case? A desecration of defunct bodies, arbitrary colorations, an unrealistic staging and a lack of decency.
Nonetheless, the purpose of the exhibition was not artistic but scientific. This exhibition was proposed by the German anatomist Doctor Gunther Von Hagen. The latter has revolutionized the process of embalming with the « Plastination » and this exhibition allowed people to see or to study the different aspects of this technique.
Exhibiting dissected animals is right, but defunct bodies? No way! There is definitively a delicate balance between what is wrong and right, what is tolerated and not. This is the human being, the moral and the decency in case here. This is the last straw of prohibition.
Damien Hirst
If now, it is "normal" to exhibit animal corpses, it is maybe because the society considers that ethic and moral are not the purpose of Art anymore. Its role has changed. Besides, perhaps we become tolerant about taboos and things make us feel uncomfortable.
But if Art looses its aesthetic and moral purposes, what remains? A political purpose? A kind of morbid entertainment to titillate people?
Georges Rouault said « Painting is only a way to forget life. A scream in the night. A missed sob. A strangled laugh." And finally, this is maybe the future of art : A strangled laugh…
Amandine
Photo Credits:
Header: Damien Hirst