The God "Backside"
Who has never heard about the Sistine Chapel? Actually, the celebrity of this huge piece comes from a very small part of the ceiling, where God and Adam's fingers are almost touching each other. This « suspense » – this detail – has made this ceiling famous such as the enigmatic smile of Mona Lisa. As this column teaches us, small details often turn a work of art into a masterpiece… But today, the point is on another detail less obvious but very surprising.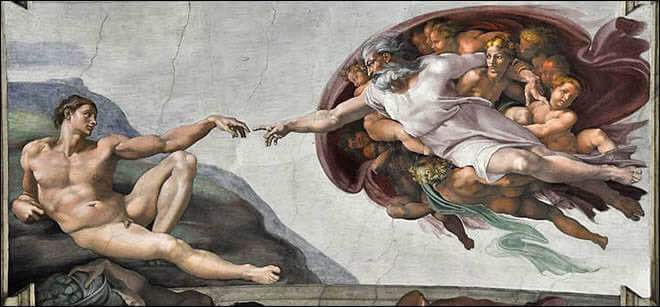 The Sistine Chapel is significant because, since 1477, all cardinals meet there to elect new popes. Then, in the beginning of the XVIth century, the decorative program was of the utmost importance. Michelangelo has been chosen and against his will. Unconventional and far away from the Church rules, he was considered,  among other things, as a "sodomite" which means homosexual. According to a legend, he had an affair with the commissioner, the pope Julius the IInd. Believe or not believe, it is definitely the question!
However, our concern is about God the Father here. Usually represented as a light, it was actually the very first time someone stylized a human representation of God in Art History. If we look carefully at the ceiling, we can observe different actions and moments during the creation of the world. Indeed, God is in motion to create his masterpiece. By using this stratagem, Michelangelo makes God move from side to side and finally turns him back, revealing to everyone his "backside". His unique style is obvious here which is characterized by a sculptural modelling and halftone or even acidulous colours. God, from the back, is enlightened by a touch of white pointing clearly out his derriere…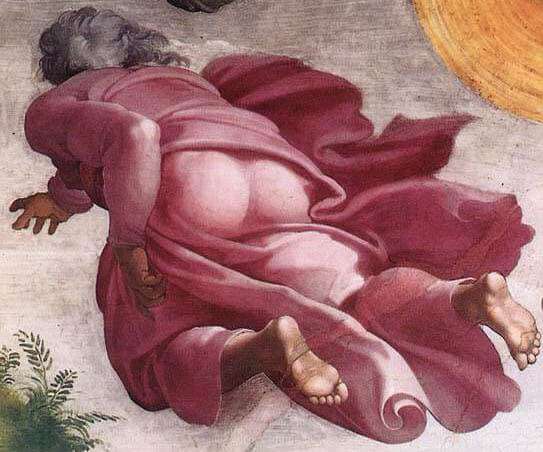 At the inauguration in 1512, people doubted a little bit about this human representation, but, after all, it was the perfect summary of all Renaissance ideas, wasn't it? The human being was at the center of everything even at the Vatican !
Nevertheless, all those beautiful ideas ended in 1527, after the Sack of Rome, when we realized people could be guided by animal instincts. The ceiling was finally repainted in order to cover all nudes and everybody was shocked by this "well-rounded backside"…
J&T
Michelangelo: 1475-1564 (dead at 88 years old !)
Sistine Chapel ceiling: 1508-1512
Masterpieces: David (1504), Academy of Fine Art Firenze/Florence, La Pièta (1499) Basilica Saint Peter in Rome,  The last judgement wall of the Sistine Chapel altar (1536-1541)
Pope Julius the IInd: 1443-1513 (pope from 1503 to 1513)